All Fusion PLUS shutters are exclusively manufactured using the highest-grade, fully waterproof and reinforced polymer extrusions, making them not only aesthetically attractive and reliably durable, and absolutely ready for all wet climates too!
Modelled on heavy construction and civil engineering "universal" beams, our incredibly strong H-shaped aluminium insert provides increased strength and long lasting performance in all our shutter louvres. In addition, all of our Fusion PLUS panels are fabricated with solidly constructed mortise and tenon joints reinforced with the highest strength industrial adhesive then sealed with stainless-steel, weather-resistant screws to insure a lifetime of longevity that won't crack, sag, warp or split over time.
Backed by our limited Lifetime Warranty, all of our Fusion PLUS shutters are the customer-satisfied, most durable, long-lasting shutters on the market today, with the best performance record of comparable shutter systems available anywhere.
Available in any designer customised shapes – with optional hinged, fixed, sliding and bifold layouts – Fusion PLUS comes in a variety of Ten Colours to compliment our standard, most popular Dulux Whites, with a wide range of available framing options also customised to any of your requirements.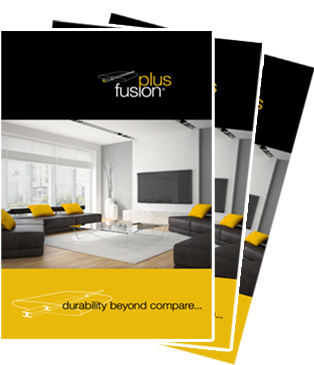 All Fusion PLUS Shutters are also:
Fire Retardant
UV Resistant
Anti-bacterial
Termite-resistant
Moisture and humidity resistant
Spans up to 1000mm wide
All Rails glued and screwed using the highest strength mortise and tenon joints
Stiles are co-extruded with square aluminium inserts for maximum strength
Each louvre is co-extruded with H-shaped aluminium inserts to prevent any sagging
High strength frame brackets provide for added support with installation
Wider panel options than many other polymer shutters on the market
Insulates 70{6d9581173de7492859ce9863528dc93df312f5d66afcbaec9c43553632659bc3} better than any wood shutter and provides for low maintenance
Engineered poly material is water resistant; ideal for all wet areas
Protected by a high UV inhibitor to ensure maximum durability
10 x standard colours designed to compliment the most popular Dulux White
Will not rot, absorb moisture, delaminate, split, crack or promote mould
High quality, low VOC, water-borne paint is machine applied pre-assembly for a long-lasting and consistent finish
Pre-paint finish provides installation flexibility and no risk of paint finish cracking between joints
Strongest warranty in the industry with a lifetime guarantee the extrusion won't crack, sag, warp or split
Manufactured by one of the largest poly factories worldwide, established in 1969